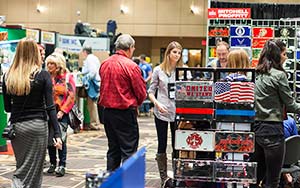 The 12th annual edition of the Army Navy Military Expo winter show returns to the Rio All Suites Hotel and Casino in Las Vegas, NV. The first expo to start off the year is back with the largest selection of U.S. and foreign military surplus, tactical, outdoor gear, workwear, and so much more all under one roof. ANME's winter show will feature over 125 vendors selling the most Army surplus you'll ever find at any other trade show and takes place from Saturday January 19th (vendor set up day) through Tuesday January 22nd.
ANME is a B2B trade show that offers goods from the Army-Navy, tactical and law enforcement, camping and outdoors industries. They pride themselves in knowing they offer what other shows can't, at an intimate venue to easily place orders. Kyle MacNall, the trade show manager, says about 80% of the vendors come back every year and choose to stay long term. The vendors are happy, the attendees are happy, what more could you want?
"People come to find great deals on products they can resell in their stores. We have the largest collection of military surplus at any show and dealers can find rare, hard-to-find surplus, as well as some new products that will be featured at our winter show," MacNall says.
Enjoy Free Meals With Your Stay: ANME offers lots of goodies to their attendees. The show provides free lunch every day of the show for their hotel guests, free breakfast on the last day of the show, and a ticket to the dinner party on the first day of the show. The expo continues to keep things running as a family show, to keep buyers returning year after year and to make it a great environment for everyone to buy and sell.
Special Presentation From GovPlanet: GovPlanet Marketplace specializes in selling assets for government agencies, including military surplus. They will give a special presentation to buyers showing them how they can continue buying surplus and getting the best deals on products, according to MacNall. Each week, on average, GovPlanet draws close to 90,000 attendees to its online auctions.
Get a Hotel Group Discount: Along with free lunch every day as well as the free breakfast and dinner on the first and last days, ANME attendees can get hotel room discounts for going to the show. Rooms start at only $119 a night with no resort fees. Just use the group code SRANM9 while booking to receive the discount. Another perk to staying at the show location is not having to worry about transportation every day and you get to avoid traffic.
For the only wholesale order writing show dedicated to the Army Navy surplus and tactical industry, join ANME for their winter show at the Rio All Suite Hotel and Casino in Las Vegas, NV. Register online for free at Website: www.anmexpo.com, or call 810-225-9801. Show times are Sunday from 9am – 5pm, Monday from 9am – 5pm, and Tuesday from 9am – 4pm. Any reseller looking for new products or a great value can't afford to miss ANME.