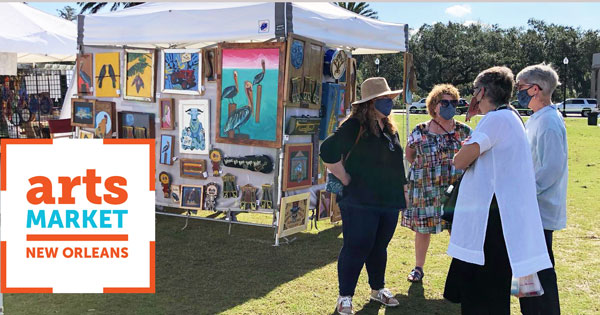 Stroll through this open-air marketplace and see all different kinds of artwork made by New Orleans and Gulf Coast artists at the Arts Market New Orleans. Taking place on Saturdays throughout December from 10am – 4pm, this free event is a great outing for the whole family.
The Arts Market New Orleans is presented by the Arts Council in partnership with the Louisiana Crafts Guild. This event is the longest running juried market in the city, now being presented at a new location: City Park's Goldring/Woldenberg Great Lawn. All of the artwork offered at the market is adorable and handmade, ranging from painting, photography, printmaking, ceramics, glasswork, jewelry, handmade clothing, soap, and other things that can only be found in New Orleans.
Keep up-to-date on the latest market news on the Arts Market New Orleans Facebook page: www.facebook.com/artsmarketneworleans. Vendors looking to rent a booth can learn more on their website: www.artsneworleans.org/event/arts-market-of-new-orleans/. Come and be a part of the community by supporting local artists!
Arts Market New Orleans
Saturday, December 5th, 12th, 19th: 10am – 4pm
City Park's Goldring/Woldenberg Great Lawn
8 Victory Ave, New Orleans, LA 70119