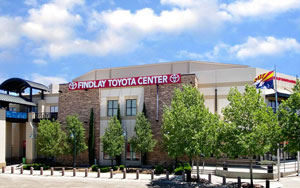 The Prescott Antique Show & Vintage Market is happy to announce that their event this weekend is a GO! Taking place Saturday and Sunday, August 29 – 30, come and visit the spacious Findlay Toyota Center, a large air-conditioned entertainment center in the heart of Prescott Valley, Arizona.
The Thumb Butte and Yavapai chapters of the International Organization of Questers have sponsored the antique and collectible show for 17 years, with proceeds going to preservation and restoration projects in both Prescott and neighboring Yavapai County towns.
The event center will feature vendor booths in both the arena and concourse areas, all under one roof and air-conditioned. There is plenty of free public parking right outside the building with food vendors set up in the concourse areas. Numerous restaurants, fast food establishments, and hotels are conveniently located in and near the Prescott Valley entertainment district, so plan your weekend getaway soon to the area!
Vendors will be offering a huge variety of quality antiques in every category, plus authentic vintage items with wide appeal, including popular repurposed, rustic barn, 50's and 60's paraphernalia, and so much more. Guests can come and shop at the "Antique Capital of Arizona." General admission is $5, and children 12 and under are free.
The Prescott Antique Show & Vintage Market will have COVID-19 safety precautions enforced, including the wearing of masks while in the building. Be sure to visit their website at www.prescottantiqueshow.com for more information, and click on the COVID-19 policy link on the website for details.
Prescott Antique Show & Vintage Market
Saturday, August 29: 10am – 4pm
Sunday, August 30: 9am – 3pm
Findlay Toyota Center
3201 N. Main St., Prescott Valley, AZ 86314