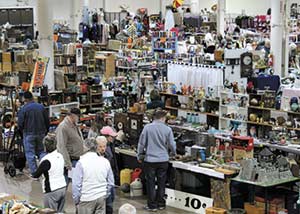 If you're looking for a great place to buy or sell antiques, trending products, or ancient items from around the world, then Scott Antiques Market is the place for you! From furniture and pottery to records and comics, there is something for everyone to enjoy at their market.
Don Scott, founder of the Scott Antique Markets,  started his business after nearly 20 years of traveling around the country buying and selling antiques. The Atlanta, Georgia, show was successful from the beginning, and quickly expanded to Columbus, Ohio and now Washington Court House, Ohio! Thirty years later, the Scott Antique Markets are stronger than ever and have grown into the World's Largest Monthly
Indoor Antique Shows.
The market's Columbus Expo Center show is happening on December 15th – 16th in Columbus, OH from 9am – 6pm on Saturday, and 10am – 4pm on Sunday. Booth set-up time is at 6am on Friday and costs $103 for a 10'x10' space or $154.50 for a 10'x15' space. General admission is free, but parking is $5. Register today on their website at www.scottantiquemarket.com.