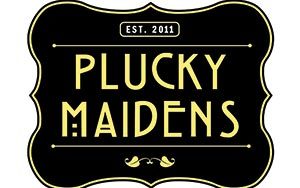 The sassy and outgoing women who run Plucky Maidens Junk Fests are getting ready for their summer event. On Saturday, July 20th from 12pm to 6pm, the Oaks Park Dance Pavilion will come to life with an array of delightful vendors selling only the best vintage wares including original and refurbished furniture, industrial metal, typewriters, unique novels and so much more.
Pam Knecht started Plucky Maidens in 2011 in order to bring vintage to Portland, OR. She wanted to create something where old things are valued more for their ravished beauty than for their monetary worth. She also helps to lead small group tours to shop the flea markets of Paris, London and Round-Top, Texas.
The Plucky Maidens' Summer Fest is one of the three events they host every year, the other two being their Spring Fest and Holiday Fest. Their unique events have been featured as one of the best shows in the U.S. by USA Today, Huffington Post, Flea Market Decor, Romantic Homes, Flea Market Style, Romantic Country, Vintage Holiday and Flea Market Finds.
The parking is always free at Plucky Maidens Junk Fests, which makes it a perfect day to take your time looking at all the unique treasures the vendors have to offer. They also have adult beverages and live music to enjoy while shopping around. Vendor spaces fill up fast, so hurry up and send your seller inquiry here to reserve your spot: https://fs23.formsite.com/pluckymaidens/.
Plucky Maidens Junk Fest
July 20th: 12pm – 6pm
Oaks Park Dance Pavilion
7805 SE Oaks Park Way
Portland, OR 97202
Website: pluckymaidens.com