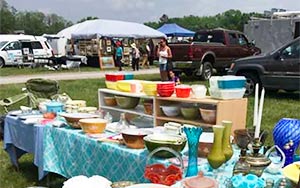 Shoppers near and far come to the Stormville Airport Flea Market in Stormville, New York to discover everything from antiques and collectibles to arts and crafts, and even new merchandise. The market is up and running for 2021 and will be open on July 10, September 4-5, October 9-10, and November 6 the rest of the year.
The Stormville Airport Antique Show & Flea Market is a fun, family-friendly atmosphere that draws thousands of shoppers to each show. With acres of merchandise, the market offers a wide variety of bargains, treasures, and unique items for everyone. With over 600 hundred vendors from more than eight states, there is always something new and exciting to see. They offer six shows a year starting in April with their "Springtime in the Country" show and ending with their "Christmas in November, Christmas Shopping" show. Each offers a unique display of goods and services, including a wide variety of food concessions. With free admission and free parking, it is a perfect day out for the whole family.
In order to keep the flea open, as well as vendors and shoppers safe from COVID-19, the Stormville Airport Flea Market is following the guidelines and regulations of the federal, state, and local laws and are requiring all sellers and customers to follow them as well. Face coverings and social distancing must be followed while visiting the market.
Stormville Airport Antique Show & Flea Market
July 10: 8am – 4pm rain or shine
428 Route 216
Stormville, NY 12582
www.stormvilleairportfleamarket.com