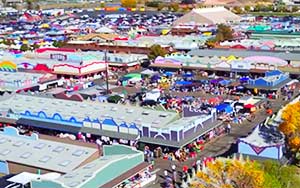 Every visit to the Mile High Flea Market offers something new to experience. Whether guests are looking for a meal, a bargain, or a ride on their Ferris Wheel, stop by any weekend year-round. Located in Denver, Colorado, they have family fun for mom's, dad's, and children alike. There is so much to explore at Mile High Flea Market, and the 80-acre flea has three distinct shopping areas:
Shops: These colored stand-alone retail buildings, clustered close to the main (South) entrance, sell a wide variety of new and gently used items at discounted prices. Visitors can find everything from sunglasses and luggage to antiques and collectibles.
Flea Market: Each weekend, this huge flea market is staged toward the east end of the facility. Here, some 2,500 sellers set up temporary tables and open rented storage units to display items at low prices. The flea market is also adjacent to the popular year-round farmers market.
Farmers Market: Colorado's warm, sunny days and cool nights help farmers grow some of the nation's most delicious produce. Here, vendors sell famously fresh produce, from Rocky Ford melons to Olathe sweet corn to Palisade peaches. They also have delectable imported foods from other states and countries.
Every weekend since 1976, local farmers, crafters, garage sellers, side hustlers, and entrepreneurs have sold their new and used merchandise at Mile High Flea Market. In fact, the average seller makes $250 – $1,000 per weekend. Vendors can book a space on the market's website, or give them a call at 303-289-4656.
Mile High Flea Market
Friday – Sunday, 7am – 5pm
I-76 & 88th Ave.
Denver, CO
Tel.: 303-289-4656
www.milehighfleamarket.com/en