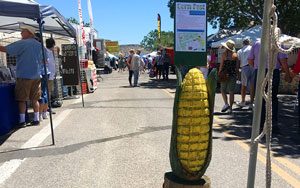 You've got your watermelon fests, you've got your pumpkin fests, and now you've got your corn fest! The annual Camp Verde Corn Fest takes place the third Saturday in July every year. Filled with tons of delicious corn, games, and shopping, this festival is one you won't want to miss.
The 2019 Corn Fest was a huge hit. Over 3,500 guests came, more than 500 dozen ears of fresh Hauser & Hauser sweet corn were sold and enjoyed, and 50 vendors from across the region participated in the event. The street fair feel attracted patrons and vendors alike to enjoy a fun-filled day.
First celebrated 25 years ago, the Corn Fest pays homage to the Verde Valley's famous sweet corn, grown at Hauser & Hauser Farms in Camp Verde. This is a "corny" old-fashioned family event with plenty of food, fun, games, music, vendors, and of course, sweet corn. Visitors can enjoy a vintage baseball game at Fort Verde State Historic Park. The Fort also hosts a Victorian Christmas ornament-making event for kids as part of the Christmas in July celebration.
The Camp Verde Corn Fest will take place on July 18 from 11am – 8pm at Hollamon Street and inside of the Community Center gym. If you're interested in becoming a vendor at this classic event, simply fill out the website. Each selling space is $65 and includes a 10×10 space.
Camp Verde Corn Fest
Saturday, July 18: 11am – 8pm
Tel.: 928-554-0851
Web.: visitcampverde.com/cornfest-festival