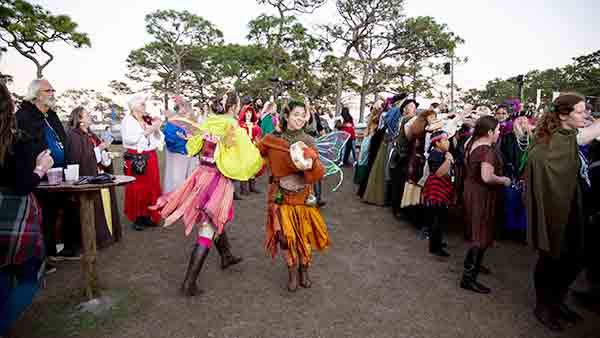 Come one, come all to the Brevard Renaissance Fair, taking place over the course of four weekends from January 16-18, 23-24, 30-February 1, and 6-7 in 2021. A full cast of colorful characters will fill the land with music, dancing, and more in the Forest of Wickham Park in Melbourne, Florida
With over 100 stage shows daily, varieties of foods and treats, and numerous artisan merchants with handcrafted wares, the Brevard Renaissance fair invites guests to immerse themselves in a unique experience of history and fantasy. Each weekend will be themed: the first weekend will be Pirate Weekend, the second weekend will be Fantasy Weekend, the third weekend will be Heroes of the Realm Weekend, and the fourth weekend will be Celtic Weekend. Both cast and guests can dress up to match each theme for double the fun.
Attendees can find some of the top acts in the nation as selected by the people that attended fairs throughout the country last year, including The Develists, Arthur Greenlead Holmes, Youth in Harmony, Music The Gathering, and many others. Daily admission tickets are good each Saturday and Sunday of the Fair from 10am to 6pm, and may be purchased online or at the gate. Prices can be found on their website for adults, kids, seniors, and leashed pets.
In the event that the 2021 Brevard Renaissance Festival is cut short or cancelled, refunds will be implemented accordingly.
Brevard Renaissance Fair
January 16-18, 23-24, 30-February 1, 6-7
Wickham Park
2500 Parkway Dr.
Melbourne, FL 32935
brevardrenaissancefair.com