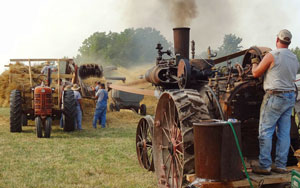 The Northwest Missouri Steam & Gas Engine Association are celebrating their 57th Annual Show from August 21 – 23, 2020. The show ground is an open-air venue with plenty of space to make visitors and exhibitors feel comfortable. They already have over 1,000 feet of vendor space reserved and more calls keep pouring in!
At the event, there will be featured models including Minneapolis steam engines, Minneapolis tractors and equipment, and vertical gas engines. There will also be daily events such as steam and gas engine demonstrations, threshing, sawmills, blacksmith work, homestead skills, working horses and mules, flea market vendors and more.
The Northwest Missouri Steam & Gas Engine Association was created to preserve and promote historical agricultural practices using steam and hit and miss engines. Admission for the event is $5 per day, and a weekend button is $10. Show grounds are located 1 mile West of Hamilton, MO on CC Hwy to 834 NW Osage Drive.
Here is the weekend schedule:
Friday, August 21
8am – Tractor Cruise sign up. Leaves at 9am
Evening – local musicians
6pm – Draft Horse Farm Races
8pm – Community Bonfire
Saturday, August 22
10am – Antique and Classic Tractor Pull
10:30am – Kiddie Tractor Pull
1pm – Horseshoe Pitching
2pm – Parade of Power
8pm – Stanley Steamer's Band
8pm – Community Bonfire
Sunday, August 23
9am – Community Church Service
For more information, check out their Facebook page at www.facebook.com/northwestmissouristeamandgas.
57th Annual Steam & Gas Engine Show
August 21 – 23, 2020
834 NW Osage Dr., Hamilton, MO 64644
Web.: www.northwestmissouristeamandgas.com