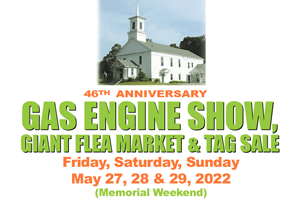 This flea market is the largest fundraiser of the year for the United Church of Bernardston in Massachusetts! Held every year on Memorial Day weekend, there will also be a Gas Engine Show and a tag sale alongside the flea market. 
This year, the fundraiser will be held on May 27 – 29, 2022. Anyone interested in selling their wares can download the registration form on the church's website. Spaces are $50 for the whole weekend, and measure 30w x 20d. Proceeds for the Gas Engine Show and Giant Flea Market go to the United Church of Bernardston to aid in their mission work locally and globally. UCB is recognized as an open and affirming church through the United Church of Christ and a reconciling ministry of the United Methodist Church. 
Organizers for the event are already gathering some amazing products that will be sold at the auction during the Gas Engine Show. There will also be a raffle, as well as a variety of great products being sold by vendors coming from all over Massachusetts. For more information, visit the event's Facebook page here. 
46th Annual Gas Engine Show, Giant Flea Market & Tag Sale
May 27 – 29, 2022
Pratt Field
257 South St., Bernardston, MA