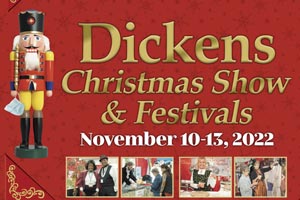 With just two months left until Christmas, consumers are on the hunt to find the perfect gifts for their loved ones, and the Dickens Christmas Show & Festival is the perfect place to do just that. For 41 years, this national award-winning event has been a one-stop-shop for holiday shoppers. 
Taking place November 10-13, 2022 at the Myrtle Beach Convention Center in South Carolina, the Dickens Christmas Show & Festival presents a multitude of shopping and entertainment options. The cornerstone of the event is a Victorian Holiday Marketplace, where guests can find over 300 period-clad vendors hawking everything from jewelry and gifts to holiday decor and gourmet food. 
What to Expect
The fun continues on with strolling Victorian musicians, tea leaf readers, Punch & Judy shows, shadow box displays, a life-sized Historic Santa through the Ages exhibit, and a real live Santa, each lending their own charm to the entire event. Guests can also experience elaborate festival displays of trees, tables, wreaths, worlds, and stockings. All displays are available for purchase at a silent auction, with 100 percent of the funds going to the sponsoring non-profit. 
Tickets can be purchased online or at the door, and here are the different pricing options that guests can choose from: 
Advanced online adult single day: $11 (+ $1 at the door)
Advanced adult multi-day: $14 (+ $1 at the door)
Advanced online child single day: $4 (+ $1 at the door)
Advanced online child multi-day: $5.50 (+ $1 at the door)
Group rates are available for over 10 guests
November 10-13, 2022
Myrtle Beach Convention Center
2101 N Oak St., Myrtle Beach, SC 29577