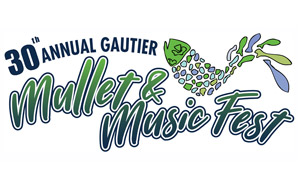 Filled with local cuisine, fine arts and crafts, kids activities, live music, and more, the Annual Gautier Mullet Festival is back and ready to roll for their 30th year! Come and join this free arts and crafts festival for a day of family fun and delicious food, taking place on October 24 from 9am – 7pm in Gautier, Mississippi.
The Gautier Mullet Festival is a free event open to the public, with all of the fun activities mentioned above as well as their famous Mullet Toss. Attendees can enter the contest to see how far they can throw a mullet, and are encouraged to bring their own chairs and dancing shoes.
For those who don't want to toss a mullet, you can enjoy eating it. Gautier Men's Club will be preparing  them along with some other southern favorites. The festival will also have other food vendors from all over. The Gautier Mullet Festival always features the best vendors. Handcrafted items and unique merchandise you can't find anywhere else. It's the perfect time to shop for holiday gifts.
Children's activities include painting, a petting zoo, and so much more. The festival also hosts an Art Contest each year where the winning artwork will be displayed on festival t-shirts and posters and the artist receives a cash prize. Live music will be playing all day long at the event, and the band lineup will be posted on the festival's website at www.gautiermulletfestival.com. And last but not least, attendees can register their furry friends on the festival website to enter into the Pet Parade.
There is so much to see at the 30th Annual Gautier Mullet & Music Fest, so be sure to mark your calendars so you don't miss it.
30th Annual Gautier Mullet & Music Fest
October 24, 9am – 7pm
Hwy. 90 and Dolphin Rd.
Gautier, MS 39553
www.gautiermulletfestival.com