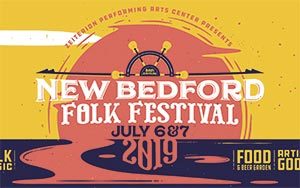 This annual event is bringing together over 70 renowned and emerging performers along with over 90 juried arts and crafts vendors located in New Bedford's historic district. On July 6th and 7th, this festival will light up with music and laughter as friends and family come together to enjoy this magical experience.
This two day event offers continuous folk music from 11am to 9pm on seven sound stages in and around the New Bedford Whaling National Historical Park in Massachusetts. Some of the performers for the weekend include Anne Hills, Art Tebbetts, Beaucoup Blue, Bill Jones and many other folk musicians. Get ready for unique musical events, which are the heart and soul of New Bedford Folk Festival!
The Artisans' Marketplace showcases the handcrafted work of many local artists as well as artisans from Maine to California and the International Bazaar offers high-quality, imported handcrafts, many of them Fair Trade,  from around the globe. Enjoy a wide range of food vendors selling delicious middle eastern food, seafood, ice cream, lemonade, American and Portuguese cuisine and plenty of snacks and sweets to munch on while you walk around.
There is so much to see in New Bedford, so you and your friends or family can make a weekend trip out of it. The city offers a wide variety of attractions and activities that suit all interests, such as the largest museum in America devoted to the whaling industry and the New Bedford Whaling National Park. Come out and enjoy an exciting atmosphere with great music, beautiful arts and crafts and fun activities for the whole weekend.
New Bedford Folk Festival
July 6th & 7th: 11am – 9pm
Elm Street Garage
51 Elm St.
New Bedford, MA 02740
Website: newbedfordfolkfestival.com