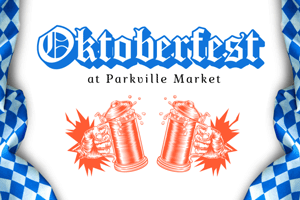 Save the date for one of the biggest and hoppy-est Oktoberfest events happening in Connecticut! Taking place in Hartford, the Parkville Oktoberfest will be a two-week long event beginning on September 20th and running through October 3rd. 
Just like the traditional festival in Germany, the Parkville Oktoberfest offers a variety of different fun activities, food, and drinks each day of the event. Here is what you can expect:
Mondays through Thursdays:
Daily Derman beer specials
Monday night football in The Local
Trivia Night Tuesdays
Karaoke Wednesdays
Outdoor live music on Thursdays
Fridays:
Biergarten at The Hall is open to the public
Local breweries will be pouring on site
Especially for September 24:

Thomas Hooker
New England Brewing Co.
Sixpoint Brewery
Counterweight Brewery

Especially for October 1:

Phantom Brewing Co.
Hog River Brewing
Saturdays:
Official Sam Adams Oktoberfest ticketed event in The Hall
September 25th Weekend 1: purchase tickets here
October 2nd Weekend 2: purchase tickets here
Event details:

12-4pm
Live German music
Beer Bars
Stein Hoisting Contest
Festive food pop-ups
Raffle prizes
Sundays:
Outdoor pop-up shops
Family friendly entertainment
For more information on the event, click here. 
Parkville Oktoberfest
September 20 – October 3, 2022
1400 Park St., Hartford, CT 06106