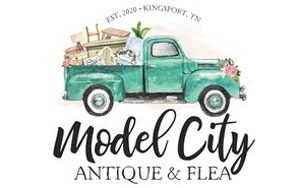 Antiques, art, books, music, collectibles, oh my! The Model City Antique & Flea Market is hosting their 2020 Spring Market from April 3 – 4 at the Civic Auditorium in Kingsport, Tennessee. They are currently accepting vendor applications who sell anything from antiques and collectibles to architectural salvage and used or handmade merchandise.
Vendors may book multiple booths if they wish, and tables and chairs are available for a small additional cost. 8 x 10 booths are $125. Vendors can also rent one 8' table and two chairs for $5, just specify on the application if you would like to add those items. The deadline for rental payments is February 29th, but if you still wish to participate after that date, simply contact management for availability and any cancellations.
This event will be promoted through social media, radio, TV, signs and flyers at businesses in the surrounding area. All vendors who provide detailed information and photos will be highlighted on The Model City Antique & Flea Market's social media outlets.
Tickets for the events are $5 a day, and children 13 and under are free. Food trucks will also be on site, so come hungry!
The Model City Antique & Flea Market
April 3 – 4, 10am – 6pm both days
Kingsport Civic Auditorium
1550 Ft Henry Dr., Kingsport, TN
www.modelcityantiqueandflea.com