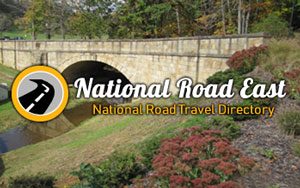 Every year, the National Road Yard Sale Festival is held during the Wednesday after Memorial Day, taking place along US Route 40 and stretching from Baltimore to St. Louis. This huge, 824-mile festival has antique shops, flea markets, yard sales, and other small shops set up along the road. Due to the COVID-19 pandemic, the festival has been postponed until August 19 – 23, 2020.
Promoting Hidden Gems
The goal of the National Road Yard Sale Festival is to have each community participate to make the event one long festival along Route 40. This gives each business a chance to showcase what makes them unique in the old pike towns, and past sales have drawn in thousands of people to the areas. It's a great way for local residents to make extra money as well as promote tourism.
Along the route, visitors can find all different kinds of antiques, furniture, fresh garden produce, glassware and collectibles, and in some locations Amish treats are available during the sale. A listing of some businesses and yard sales can be found on the official website of US 40, nationalroadyardsale.com. Yard sales can post their listing for free and businesses have to pay a small fee of $39.95 per year.
The Beautiful History that Lies Underneath
The National Road, also known as Route 40, was built between 1811 and 1834 to reach the western settlements. It was also the first federally funded road in U.S. history. Starting out of Baltimore, the yard sale crosses the Appalachian Mountains, dips into West Virginia and Pennsylvania, then rolls through the heartlands all the way to East St. Louis, Illinois.
On top of visiting the many flea markets and antique shops, the National Road Yard Sale Festival provides travelers with the opportunity to explore the many attractions on the "Road that Built the Nation," such as the James Whitcomb Riley Museum in Greenfield, Huddleston Farmhouse Inn Museum in Cambridge City, and the Zane-Grey National Road Museum in Norwich, Ohio. Many guests plan future vacations around their yard sale experiences.
For more information on the National Road Yard Sale, contact coordinators Donna Tauber at 765-987-7565 or Kim Couch at 765-969-7593. You can also visit the official Facebook page Historic National Road Yard Sale – US 40 Sales. For more information on the yard sale and to view maps, go to www.fhwa.dot.gov/byways/byways/2278.