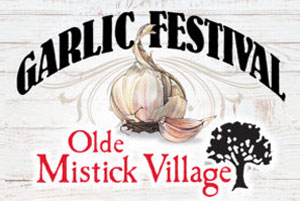 An award-winning food festival dedicated to all things garlic is coming to Olde Mistick Village in Mystic, Connecticut. To celebrate the abundant fall harvest, farmers from around the region will present an amazing variety of garlic for sale in addition to fresh produce at the 15th Annual Garlic Festival. 
Taking place September 17-18, 2022, Olde Mistick Village is a beautiful tourist area known for its old school feel and quaint little shops. Throughout both days, local restaurants and food service establishments will be serving, for purchase, garlic-related foods as well as non-garlic favorites. A host of merchants, artisans, authors, and artists will line the pathways of the village displaying their foods, crafts, gifts, and talents. Along with these vendors, guests will find Olde Mistick Village merchants offering garlic-related activities or products at their storefronts.
Be sure to mark your calendars and bring along friends and family for this fun open-air festival. Shop from over 40 vendors and enjoy listening to 16 different local bands and musicians as you peruse around the historic Olde Mistick Village. For more information on the event, click here. 
15th Annual Garlic Festival
September 17-18, 2022
Olde Mistick Village
27 Coogan Blvd. Mystic, CT 06355