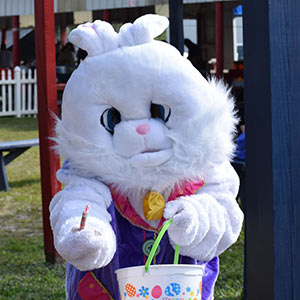 Many events may be cancelled, but Easter is still going on at Waldo Farmers and Flea Market! On Saturday, April 11th, the market will be hosting their 13th Annual Easter Egg & Treasure Hunt. This flea is spread over 50 acres, so there's plenty of room to keep your distance and hunt for treasure.
Registration for this event starts at 10am, and the hunt will begin at 11am sharp. Event goers can meet at the stage in front of "B" building. This is completely free for children 10 and under, and there will be over 3,000 eggs filled with prizes, candy, and other trinkets hidden around the market. The gold and silver eggs are filled with cash, so keep an eye out for those.
Following the Easter Egg hunt will be a treasure hunt for a chance to gather even more prizes. Children can also take a photo with the Easter Bunny to remember this day forever.
Waldo Farmers and Flea Market is North Central Florida's largest flea market, with over 900 dealers and 20,000 customers each weekend. At this time, the market is remaining open and taking extra steps to protect dealers, customers and staff by stepping up the cleaning schedules for their restrooms and booking vendors with spaces between them when possible. They ask that no more than 10 customers and dealers congregate in any one area.
Waldo Farmers and Flea Market
17805 US Hwy 301
Waldo, FL 32694
Website: waldofleamarket.com
Telephone: 352-468-2255