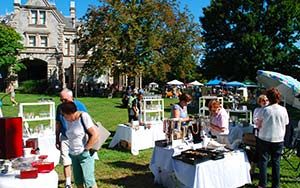 Norwalk, Connecticut's Lockwood-Matthews Mansion Museum will host its 12th annual Old-Fashioned Flea Market on Sunday, September 15th. Flea market enthusiasts can shop from over 70 booths featuring antiques, repurposed furniture, collectibles, jewelry, crafts, household items, clothing, toys and specialty farm-to-table items. All proceeds will benefit the museum.
The Lockwood-Mathews Mansion Museum is regarded as one of the earliest and most significant Second Empire Style country houses in the United States. Built in 1864-1868, the estate was eventually sold to the City of Norwalk and designated a public park. The museum will be open on Sunday for $5 mini-tours from 10 a.m. to 4 p.m.
During the event, the mansion will manage a White Elephant table, highlighting items generously donated by supporters and offered to the public for as little as $1. The Museum Shop will also be open for business and feature new merchandise and a broad selection of gift ideas including fabric totes, monogrammed dish towels, designer jewelry, elegant scarves, books, and other museum-centered accessories. Food trucks will also be on hand, including Cousins Maine Lobster, The Chamo and Lucky Dog Food Truck for guests to snack while they shop.
The event will take place rain or shine. Vendor sites are approximately 10×16 feet. Spaces will be assigned on a first come, first serve basis. The cost for each site will be $75 ($65.00 for returning vendors and applications received by July 31st 2019). Advance payment is required. Vendors may unload merchandise at their site but will be required to park their vehicle in the parking lot. Vendor applications can be found on their website at www.lockwoodmathewsmansion.com/event/old-fashioned-flea-market-2/.
The Lockwood-Matthews Mansion Museum
Sunday, September 15th: 10am – 4pm
295 West Avenue
Norwalk, CT 06850
Tel.: 203-838-9799